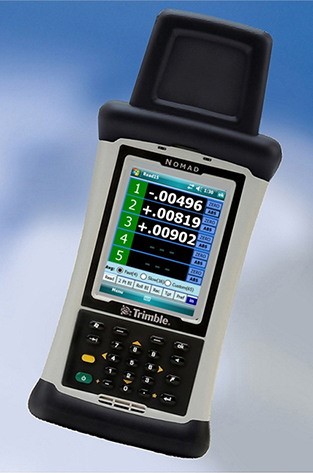 R-1356-2.4ZB with New Read15 Software
Hand-held convenience, wireless communication via the ZigBee®Networking protocol, and multi- purpose Read15 alignment software
The R-1355-2.4ZB uses a rugged, IP 67 PDA combined with our Read15 software to display the data for our A-1519/A-1520 wireless targets and any of our L-730/740 Series rotating lasers. When combined with our R-1307-2.4ZB Readout, it can also display the data for our 2-axis targets.
Read15 software supports five targets and multiple alignment functions
The R-1356-2.4ZB Readout comes with Hamar Laser's Read15 alignment software and can display data for up to 5 single-axis targets and two 2-axis targets.
– 2-Point Buck-In wizard
– Roll alignment Buck-In tool
– Date recording for up to 500 points
– Adjustable data averaging to minimize air noise
Selectable System ID allows two alignment systems to work side-by-side
The radios employ a frequency-hopping protocol to avoid interference with other radio devices that might be operating at the same frequency. The radio allows the selection of different system IDs so that 2 or more systems can work in the same area and will not interfere with each other.