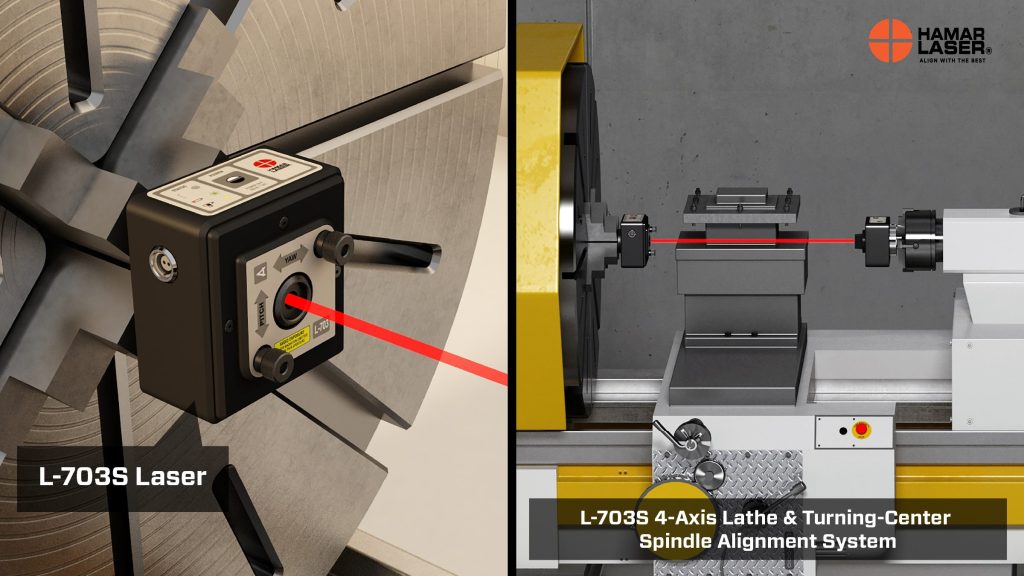 Powerful system features "S" variant of compact & versatile new laser; delivers higher accuracy and faster setups, shaving time off alignments
Hamar Laser Instruments announces the release of their new L-703S 4-Axis Lathe & Turning-Center Spindle Alignment System. Featuring the "S" variant of Hamar Laser's compact and versatile next-generation L-703 Laser, the new system is the latest in a growing family of alignment packages designed for specific applications.
The new L-703S Laser mounts directly into spindle chucks and collets for aligning headstock spindle axes to guideways and sub-spindles and tailstocks on lathes, OD/ID grinders, turning centers, and similar machines. The L-703S may also be used for guideway straightness checks during preventive maintenance and assembly, and for checking surface plates.
"Hamar Laser's next-generation L-703 Laser design features significantly higher accuracy and a few nice improvements over earlier models," said Rod Hamar, President of Hamar Laser Instruments. "Our team's design allowed us to reduce size, cost and complexity, increase accuracy and get rid of annoying wires by adding Bluetooth communications. With a 40% reduction in axial space over our previous L-700 model, the L-703S is much better suited for smaller lathes and turning centers. To top it all off, the price of the new system is significantly less than our older L-700 spindle kit."
Small and lightweight, the L-703S Laser is ideally suited for all kinds of turning applications, from small CNC turning centers and Swiss-type machines to large-bed lathes. With a range of up to 50 ft. (15 m), the laser can also quickly and easily check the alignment of even very large lathes.
The L-703S System features Hamar's next-gen T-1296 5-Axis Wireless Spindle & Scan Target, which can easily check all 4 alignment axes of a headstock spindle relative to the tailstock. The T-1296 offers a center resolution of .00001 in. (0.00025 mm) and angular resolution of up to .00002 in/ft (0.002 mm/m). This extremely high level of accuracy can significantly improve machine performance, reduce scrap rates and increase productivity.
The T-1296 Target's data updates in real time, so alignment errors can be fixed easily and quickly without changing the setup. The new system aligns machines up to 70% faster than conventional methods, such as use indicators and alignment bars. Setup is simple and only minimal training is required.
The L-703S System package typically includes Hamar Laser's T-1296 Target with 3 in. (75 mm) angular lens and new S-1408 Lathe10 Alignment Software for Lathes and Turning Centers. Windows-based Lathe10 uses an Easy-Guide™ system that walks users through spindle alignments in 6 steps and has a 4-axis spindle alignment screen to re-align spindles in real time. L-703S kits can be customized for users' unique requirements with a variety of accessories and fixtures.
The new L-703S System includes these significant design modifications and features for higher accuracy, greater ease-of-use, and increased speed and versatility:
Laser Beam: Laser beam size was reduced 30% from the L-700, increasing the measuring range of the target sensors by the same amount. Laser beam centering adjustments were removed, reducing the unit's size. The laser beam is now pre-centered to the mounting stud to speed setups; higher accuracy centering is available with the optional L-103 Optical Beam Translator.
Wireless High-Resolution Target: T-1296 5-Axis Wireless Spindle & Scan Target uses Bluetooth communications, eliminating the bulky computer interface and wires that went with it, reducing cost and complexity! The PSDs are enhanced, super-linear sensors for the ultimate in accuracy.
Power: Now powered by rechargeable Lithium-Ion battery (for up to 11 hours of continuous use), replacing 9V batteries in the L-700; an AC charging adapter can be used for continuous operation.
For further information, visit Hamar Laser's website or contact the company at +1-203-730-4600 or sales@hamarlaser.com.